Olin Winchester, LLC ("Winchester"), considered one of the world's leading ammunition manufacturers, is seeking Production Packers – Ammunition for multiple shifts. This position will be located at the Lake City facility in Independence, MO. Ammunition Packers start at $20.00 per hour. With a reputation steeped in tradition, we have earned the moniker, 'The American Legend' by delivering on our commitment to excellence in everything we do – including staffing our state-of-the-art manufacturing facilities with diverse, energetic employees. Read on to learn more about this exciting opportunity and join our quest for the best.
Production Packers Essential Functions*:
· Sorts, cleans, and separates ammunition for packing.
· Moves materials and finished ammunition.
· Operates bandoleer filling and stamping machines.
· Visually inspects and/or feeds components into machine.
· Maintains equipment and work area in a clean and safe condition.
· Uses electric lift/cart and two-wheel dolly.
Production Packers Position Requirements*:
· High school diploma or equivalent.
· Prior full-time work experience preferred; manufacturing/industrial environment preferred.
· Ability to stand for prolonged periods, lift/carry up to 50 pounds, and push up to 100 pounds.
· Ability and willingness to work any shift, including overtime, up to 20 hours per week, per union contract.
· This position requires access to ITAR controlled technical data, and as such, employment will be contingent upon the candidate's ability to access ITAR controlled technical data pursuant to an export license approved by the Directorate of Defense Trade Controls if required.
· This position requires successful vetting as an Employee Possessor in accordance with U.S. Department of Justice and the Bureau of Alcohol, Tobacco, Firearms and Explosive.
· This position requires successful vetting for unescorted access in accordance with U.S. Army and Department of Defense access policies.
What's in it for you?
While many of our employees have worked at Olin for their entire career, we constantly strive to bring new people with new points of view into the company. Your career is important to us, and we work with you to create development plans that help you achieve your career goals.

Our employees enjoy the following employment enhancements and more:
· Paid parental leave (up to 80 hours) and additional leave programs
· Medical, Dental and Vision Insurance
· Fertility Benefits (lifetime maximum $25,000)
· 401(k) with an employer match and retirement contribution account
· Paid Time Off
· Employee Ammunition Purchase Program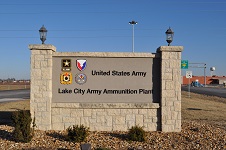 Who we are
Winchester is one of three proud business units of Olin Corporation. Olin began in 1892 and has steadily grown to become an industry leader in both ammunition and chemicals manufacturing. Winchester, Olin Chlor Alkali Products & Vinyls and Olin Epoxy employ approximately 8,000 professionals in more than 20 countries with customers in nearly 100 countries around the globe.
*This list is not intended to be all inclusive.
Olin does not provide any form of sponsorship to applicants not authorized to work in the US.
#Winchester